Feeling good about the plastic bag ban and using your eco-friendly cloth tote bag for shopping?  Think again.  Studies have shown that plastic bag bans simply don't work and don't help the environment.  Did you know that you'd have to use your eco-friendly reusable cloth shopping bag 131 times before there would be any environmental advantage to it.  I hope it lasts that long.  A study by the Environmental Agency of the UK Government proving this here.  
The problem is with this eco-green-feel good stuff is that it's supporters don't seem to really think it through.  For example, how much more does it take to manufacture a cloth bag and for you to wash it? The water, detergent, bleach and electricity used to clean them count but this seems to be conveniently overlooked.  "The lack of consideration for land-use and water consumption in the case of cotton and biobased materials ... is difficult to justify."  
Another consideration is what about the pesticides used to grow the cotton for you your green canvas bag?  According to aWorld Wildlife Fund study; "Only 2.4 percent of the world's cropland is planted with cotton, yet it accounts for 24 percent of the global market for insecticides and 11 percent for pesticides. A pound of cotton requires more than 5,000 gallons of water on average, a thirst far greater than that of any vegetable and even most meats. And cotton, unlike paper, is not currently recycled in most places."  
, The World Wildlife Fund 
reports
 - 
Source WWF, HERE.
And no, plastic bags are not made from oil. According to the US government  
American-made plastic bags are produced from byproducts of natural gas, not oil. Source/More [url=U.S. Energy Information Administration, %E2%80%9CHow much oil is used to make plastics?%E2%80%9C; April 2016]Here.[/url]    
And we won't even get into the fertilizer used to grow the cotton for your eco-bags...
Sorry, but the plastic bag ban is ridiculous especially since there are now RECYCLABLE PLASTIC BAGS that are just like the old plastic shopping bags that we are used to and can instantly replace the offending non-recyclable bags with no one noticing the difference.  Reusing big old shopping bags is a great way to introduce nasty bacterias into your family's life and get everyone sick.  Did they ever fact into the cost and inconvenience of bleaching and cleaning these big handled shopping bags when determining how environmental friendly this whole thing was?
Lyin' Ned Lamont's CT will now (As of August) impose a 10 cent tax on each plastic bag shoppers use for a two year period when they will be banned outright.
Here's an idea...
Go on ebay and buy a carton of the old style, or recyclable, plastic bags for 16.99 including shipping.
This makes each bag cost you 1.7 cents each, not too bad.
For the next 2 years, CT will tax you 10 cents when you use the store's bags.
What to do?
Put that carton of 1,000 bags in your trunk. It's small, roughly 10X8".  
Next time, when you get out of your car and before you walk to the store, go in the trunk and grab a handful.
Bring your own plastic bags, and save 8.4 cents per bag!
Nothing much in your life changes.
You can even not recycle them if you wish!
I won't, but I'm a meanie but if you're not, just buy the recyclable bags.
It's your choice, and that's the important thing.
Shouldn't it be?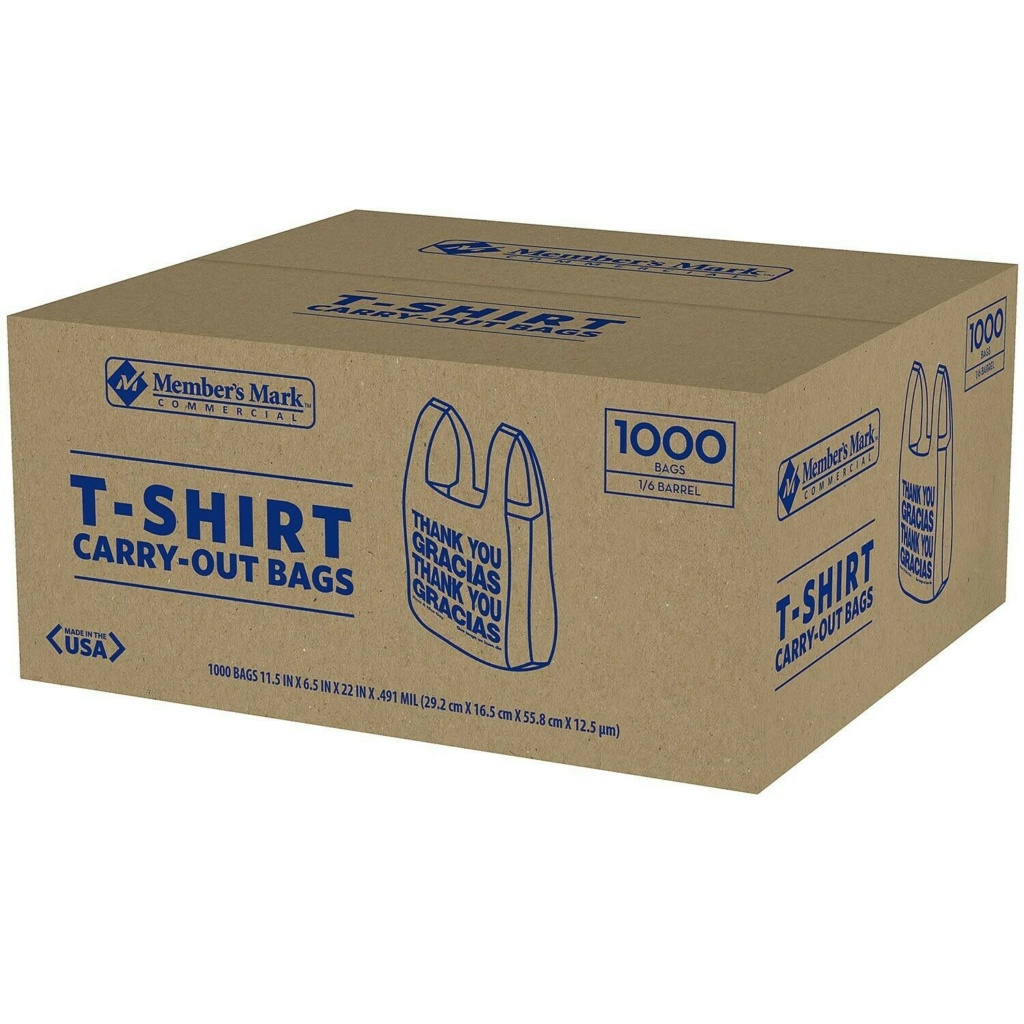 Where to find cheap plastic grocery bags.... right here; EBAY
Save Our Planet NOW! Video Below!  
[/url]
Last edited by Admin on Wed Jul 31, 2019 8:52 am; edited 8 times in total
Plastic bags are the most environmentally friendly option at the checkout. They're 100% recyclable and highly reused. Studies show that alternatives which seem "greener" actually place a greater burden on the environment because they require more natural resources to produce and transport, they emit more carbon throughout their lifecycles and they need more energy to recycle – if they're recyclable at all. On top of that, studies show bag bans and taxes haven't meaningfully reduced overall litter or waste anywhere they've been tried. ¹


ENERGY SAVINGS: Plastic bags require 70% less energy to manufacture and consume 96% less water than what's used to make paper bags.


DISPOSAL ADVANTAGES: Once disposed, reusable bags take up to 9.3% more space than plastic bags in landfills.


REUSABLE COTTON BAGS AREN'T REUSED ENOUGH: Standard reusable cotton grocery bags must be reused 131 times "to ensure that they have lower global warming potential than" a plastic bag used only once.²


NO OIL INVOLVED: American-made plastic bags are produced from byproducts of natural gas, not oil.³


The results are in: Bag bans and taxes don't help to reduce waste, litter or marine debris.
Ban and tax ordinances have never been successful at meaningfully reducing litter, waste or marine debris. Not anywhere. What they have been shown to do is heap unfair costs on low- and fixed-income families and add more red tape to local businesses. The environment doesn't benefit, and neither do people.


LANDFILL WASTE INCREASES: Plastic bags account for just half of 1% of U.S. waste, and without plastic grocery bags, people purchase replacement bags — often made of thicker, heavier plastic — and then send those bags to the landfill instead.⁴

In Austin, landfill waste increased after a bag ban because shoppers used and disposed of thicker plastic reusable bags in the place of standard plastic grocery bags.

LITTLE TO NO IMPACT ON OVERALL LITTER: Plastic retail bags comprise a very small portion of litter – less than 2% – making bans and taxes ineffective when it comes to reducing overall litter.⁵

In Washington, D.C., a bag tax hasn't improved litter or reduced bag use at all.⁶ According to a Washington Post investigation, D.C. collected roughly $10 million since 2010 without making any environmental progress. And the tax revenue keeps growing every year.⁷

A year after California implemented a statewide ban on plastic bags in 2016, an Ocean Conservancy survey showed a negligible 0.2% decrease in plastic bag litter as a percentage of overall litter.⁸

UNINTENDED CONSEQUENCES:

In Thurston County, Washington, a bag ban resulted in double the use of more resource-intensive paper bags.

[list=footnotes]
[*]Environmental Protection Agency, "
Advancing Sustainable Materials Management: Facts and Figures
"; April 2016
[*]U.K. Environmental Agency, "
Life Cycle Assessment of Supermarket Carrier Bags
"; February 2011
[*]U.S. Energy Information Administration, "
How much oil is used to make plastics?
"; April 2016
[*]The Scottish Government, "
Proposed Plastic Bag Levy – Extended Impact Assessment
"; August 2005 and The Advertiser, "
Bin line sales double nation average after plastic bag ban
"; August 2011
[*]Environmental Protection Agency, "
Advancing Sustainable Materials Management: 2014 Tables and Figures
"; December 2016
[*]The Washington Post, "
Tax data cast doubt on claims about declining use of plastic bags in D.C.
"; January 2014
[*]The Washington Post, "
Is D.C.'s 5-cent fee for plastic bags actually serving its purpose?
"; May 2015
[*]Ocean Conservancy, "
Together for our Ocean: International Coastal Cleanup 2017 Report.
" 2017.
[/list]
Source/More here;
https://www.bagtheban.com/learn-the-facts/environment/
"
Effect on Marine Life
One of the more compelling arguments against the use of plastic shopping bags is that marine life commonly mistakes them for food, and that this results in the death of 100,000 marine animals and 1 million sea birds annually.
However, [url=http://www.carrierbagtax.com/downloads/The Times 08.03.08.pdf]this argument is false[/url]. The myth originated from a 2002 study on plastic bags(pdf) commissioned by the Australian government. In the report, the authors misquoted a previous Canadian study from 1987. The animal deaths cited were actually attributable to fishing lines and nets, not plastic bags."
https://greenliving.lovetoknow.com/Advantages_of_Plastic_Grocery_Bags
Some Reasons Why Plastic Bag Bans Don't Work;


Reusable cloth bags are not necessarily better for the environment. Research demonstrates that alternative products use significantly more energy over each product's lifecycle. Studies show cloth bags must be used more than 100 times before they yield environmental benefits, which is likely far more uses than most people get before they lose or toss the bags.


Cloth bags can harbor deadly bacteria. Lawmakers should not ignore the fact that there are potential health risks related to reusable cloth bags. In fact, university researchers have found significant amounts of potentially deadly coliform and E. coli living in used cloth grocery bags.


Paper bags use significantly more energy to make. For example, one study reports that plastic grocery bags consume 40 percent less energy during production and generate 80 percent less solid waste than paper bags.


Plastic bag bans could increase solid waste. Plastic bag bans do not necessarily reduce waste and can increase the waste going to landfills because replacement products—both paper and reusable bags—take up more landfill space. Paper does biodegrade in the environment, but not in a landfill as such waste is basically mummified.


Source/More Here; 
https://cei.org/blog/plastic-bag-ban-mania-will-do-more-harm-good
Why is it fair that I have to give up plastic bags that cost half a cent each so others can have 2nd and 3rd cars, vacation homes, heated swimming pools, fly on jets and go on overseas vacations, take cruises and have large houses that waste heat, cooling and resources to build and maintain?
---
Permissions in this forum:
You
cannot
reply to topics in this forum